PAC Technology
The PAC is a result of intensive research and development by Dr Jim Duff and Roddy Mackenzie, who between them have been on four Everest expeditions. It is designed to be as simple to use as possible, while being robust enough to stand up to the tough conditions in the mountains.
Features
Effective
PAC technology has been shown to be highly effective in simulating descent. Depending on the starting altitude, simulated descents of approximately 2000 metres (6000 feet) are achieved at the operating pressure of 2 PSI above ambient pressure.
For an independent review of hyperbaric bags, see Dr Dietz's site (note: prices mentioned are incorrect).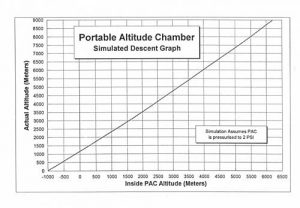 Simple
The PAC has been designed to be as simple as possible to operate. One person can perform a complete cycle. A summary of the instructions is printed on the PAC itself, while all the valves are clearly labeled to avoid confusion. Comprehensive instruction manuals can be downloaded from our website, in various languages.
Durable
Made from tough, reinforced PVC, the chamber is robust and designed to withstand the rigours of the mountains.
Light
The PAC, all up with pump, hose, repair kit and storage bag, weighs in at approximately 8 kgs.
Affordable
We are committed to making this technology affordable and we believe we have done so.
Multilingual
The PAC comes in three versions:
1. An English version – English instructions on the PAC (full English instruction manual downloadable from our website).
2. An English/ Nepali version – instructions on the PAC in both languages (full English and Nepali instruction manuals downloadable from our website).
3. An English/Chinese version – instructions on the PAC in both languages (full English and Chinese instruction manuals downloadable from our website). These PACs are manufactured upon request.
Specifications
Large Windows – to help maintain visual contact
Tapered Shape – maximizes the space around head and shoulders
Circumferential Zip – helps the victim to get in and out of the PAC easily
Automatic Release Valve – set at 2.0 PSI, which simulates a descent of approximately 2000 metres at an altitude of 5000 metres
Variable Pressure Release Value – to control the rate of inflation/deflation
External Anchor Point – for security on steep ground
Accessories: includes repair kit, pump and carry bag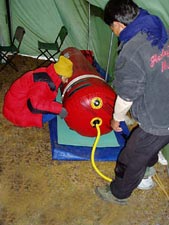 photo: Treating HACE in the mess tent
Developers
C E Bartlett Pty Ltd, is one of Australia's leading family-owned companies, has a history in excess of 45 years and currently manufactures and distributes a wide range of industrial, agricultural, domestic and commercial products using PVC, polyethylene, polypropylene, acrylic and canvas fabrics.
Their staff of 70 plus utilise the latest in manufacturing technology and equipment to ensure all products are designed and manufactured in an efficient and quality assured manner.
This company has received various local, state and industry awards as a result of their innovative approach to manufacturing and product development.
Other products manufactured by C E Bartlett Pty Ltd include: Tank Liners, Dam and Channel Liners, Grain covers, Lay-flat irrigation tubing, Side curtains & tarpaulins, Flexible water tanks, Industrial Inflatables, Recreational Inflatables, Wine Press Membranes, canopies and covers etc.
Dr Jim Duff, MD has been a doctor or leader on six Himalayan expeditions, including Chris Bonington's 1975 Everest south-west face expedition and the 1984 first Australian ascent of Everest by the north face. For over 30 years he has trained guides and leaders in Nepal and India in wilderness first aid and leadership.
Roddie Mackenzie is an experienced Himalayan mountaineer who has climbed Mt Everest. Inventions are a Mackenzie family tradition and this, combined with high altitude experience, gave birth to the PAC.